14. – 17. July 2022 in Hof Oberlethe
¡Awakening Passion for Life!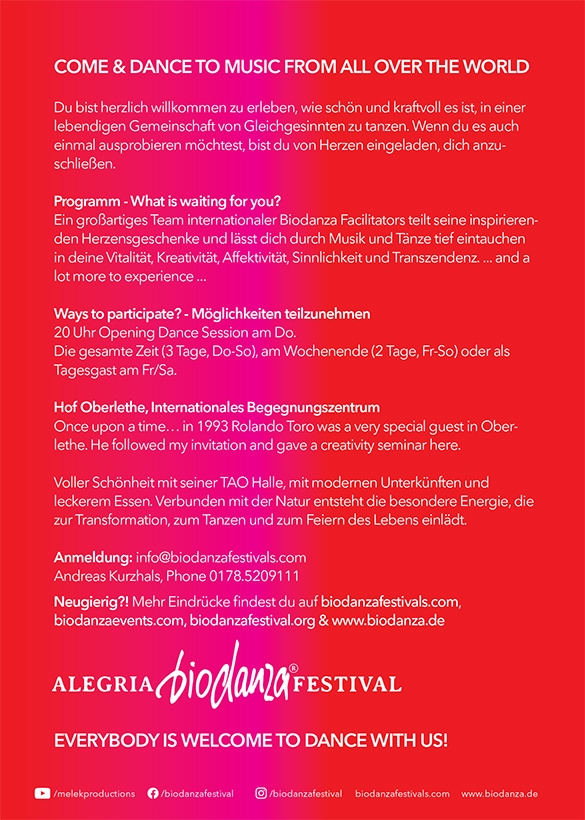 What is waiting for you?
Celebrate your life and dance! Alegria – the joy of life. Vital dance sessions (Vivencias) with all Facilitators from the Biodanza Network. The Passion and fire of the ending summer – this is the Alegria Biodanza Festival in Proitze. It is highly inspirational with it is full dynamic as wild and energetic power. We are dancing in communion with our hearts. Together we celebrate love and life and share our experience. It's about to feel our self, our body, our breath.
Experience Vivencias (vital dance sessions) of affectivity, vitality, sensuality, creativity, transcendence and in our Alegría Hall and in the Aquarius Tent.
Facilitated with lots of love and hands-on work by the vivid network of Biodanza facilitators – from the Biodanza Schools Hamburg & Frankfurt and international facilitators.
What is so special about the festival?
When Biodanza comes to Proitze, all of you join us, so MC and all the facilitators, creating Biodanza Sessions, not only the heart is open, but also the body vibrate and want to celebrate the whole life, embracing with pure divine the whole community – so intense that even with the last energy you dance. Very, very different.
MCA creates the Biodanza Festival worldwide in 2001.
Where can I see the program? You can find our program here
When?
It starts at 7pm on July 14, and will end 3pm July 17, 2022
About Hof Oberlethe
The people love to come to Proitze and feel good.
When it opens we can fill it with our dances and joy!!!
Festival prices
Many different lodging options available.
Prerequisites
No previous Biodanza experience required.
You do not have to follow certain steps:
just take your shoes off and dance who you really are.
"There is only one rule – you cannot do it wrong."
What to bring?
a smile, a shine, let yourself radiant and the world will reward with beauty and abundance
bring your friends, people, you love to dance with, your soul sister or loving companion
comfortable stretchy clothes for dancing and changing
your gear (sunscreen, mosquito repellent)
water bottle for refilling, Proitzer Mühle provides a drinking fountain
most of all it is important to take it home with you!
Registration
To register is very easy. Fill out the form below. Send us:
"I join you to dance! I will come the whole time (from Friday, just one day).
I would like to sleep in … my tent, camper, dormitorium, shared room, outside…
Please send me a confirmation."
Please make your registration today.
Or text a message to +491785209111 with your inscription.
We will send you a confirmation asap. together with an invoice. Please transfer only the part for the festival. Food and lodging you need to pay cash when you check-in.
Parking
Free parking on the premises.